BYLAWS and POLICIES
                    Current as of Aug 2019                                         Standard Operating Procedures and Policies
Directives/Guidelines
as posted by International President
Vest and Crest Information
Base Material for Vest will be:
Black Leather or Black Denim Cloth or Black Textile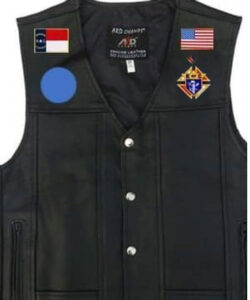 FRONT OF VEST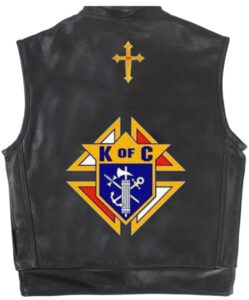 BACK OF VEST
This are a Sample Only, please refer to KonB ByLaws above for correct use and placement of Crests and Insignia.
Image by SK Stephen McGregor  
CREST ORDER FROM / PURPOSE OF USE
PURPOSE OF:
To ensure that only approved/current KonB Members order KonB Crests.
To maintain integrity of KonB Crests to approved National Supplier.
To maintain integrity of size, color, and shape of KonB Crests.
USE OF:
Only one Order Form per member, only one of each crests per member.
Crest Order Form is a fillable form to be filled electronically, but can be filled manually if needed.
Crest Order Form will be validated by POD, or designated representative, but can be validated by anyone in the member's chain of command to order KonB Crests for their respective members.
All Order Forms shall be validated with current Diocese and State Member Rosters, KonB-International will validate with KonB-Database.
Order Forms for New Members shall include an approved Membership Form as approved by KonB Bylaws, if New Member is not already in the KonB-Database.
Order Form will be submitted from Diocese to State, State will forward to KonB-International's email knightsonbikesinternational@gmail.com KonB-International will forward to National Supplier, National Supplier will contact member for payment information. National Supplier will ship directly to member as addressed on Order Form.