BYLAWS and POLICIES
                    Current as of June 2023                                         Standard Operating Procedures and Policies
Directives/Guidelines
as posted by International President
Vest and Crest Information
Base Material for Vest will be:
Black Leather or Black Denim Cloth or Black Textile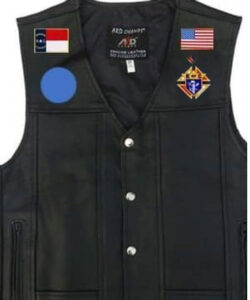 FRONT OF VEST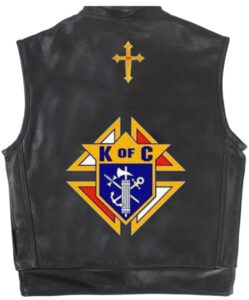 BACK OF VEST
These are a Sample Only, please refer to KonB ByLaws above for correct use and placement of Crests and Insignia.
Image by SK Stephen McGregor  
CREST ORDERING / PURPOSE OF USE
PURPOSE OF:
To ensure that only approved/current KonB Members order KonB Crests.
To maintain integrity of KonB Crests to approved National Supplier.
To maintain integrity of size, color, and shape of KonB Crests.
USE OF:
We are now offering all crests via KonB Apparel Store
Only one Order per member, only one of each crests per member.
All Orders shall be validated with current Diocese and State Member Rosters, KonB-International will validate with KonB-Database.
Pease be aware that Diocese Crest and Cross have an automatic 6 month hold unless member is already in our database.
It is the responsibility of your POD/SP to submit an approved/dated Membership Application as per KonB ByLaws to KonB-International via chain of command.